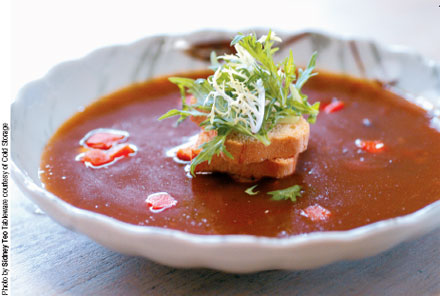 Ingredients
Reader's recipe
Oil, according to preference
1 brown onion, sliced
8 pieces of oxtail (mix with shin for more meat if desired)
1 litre water
1 tomato, skinned and chopped
1 carrot, sliced
2 potatoes, cubed
1 packet button mushrooms, stems removed and sliced thickly
1 packet Japanese beef stew mix
How to
1. Heat oil. Brown onions and add oxtail/shin. Add water and bring to boil. Add tomato, and lower heat to simmer.
2. In a separate pan brown carrot, potatoes and mushrooms. Remove and set aside. After 20 minutes, add carrot and potatoes to oxtail/ shin, and continue simmering for another 30 minutes. Stir occasionally and remove scum from top of liquid.
3. Add mushrooms and beef stew mix, stirring till it is dissolved thoroughly. Reduce heat to low and let stew rest. Serve after 10-15 minutes with crusty bread.
TAKES ABOUT: 1 hour
SERVES ABOUT: 4
Tips
You can replace carrot with baby carrots, or potatoes with baby potatoes.
The Japanese beef stew mix is available at Kinokuniya at Isetan Scotts or Meidi Ya at Daimaru.
Our favourite
One afternoon as I was taking a stroll, I came across a chicken rice stall which sold chicken rice that is cheap ($1.50 only!) and yummy. The chicken rice came in a good portion size, and the chilli was fantastic. The macaroni dish is available at only $1.50 per bowl too.
The flavour is full and spicy. The portion is generous, enough for a group of three persons to feast on, along with some side dishes and rice. I also recommend their in-house speciality, the deliciously fried beancurd.