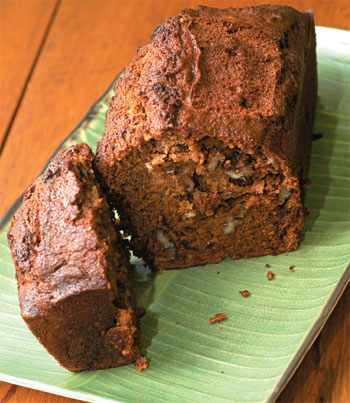 INGREDIENTS
1 cup pitted dates, coarsely chopped
1 cup walnuts, coarsely chopped
11/2 tsp baking soda
1/2 tsp salt
3 tbsp butter, cut into slices
3/4 cup boiling water
2 eggs
1 cup sugar
1/2 cup whole wheat flour
1 cup all-purpose flour
HOW TO
1. Preheat oven to 170°C. Grease a loaf pan.
2. Put dates, walnuts, baking soda, salt and butter in a bowl. Pour boiling water over and stir. Let stand for 15 minutes.
3. Use a fork to beat the eggs and sugar together in a bowl. Add both types of flour and stir.
4. Add date mixture and mix briskly until the batter is well blended.
5. Spoon into the loaf pan and bake for 1 hour, or until skewer comes out clean.
6. Remove from oven and let cool.
SERVES: 4-6 (1 loaf pan)
TAKES ABOUT: 25 minutes to
prepare, 1 hour to bake