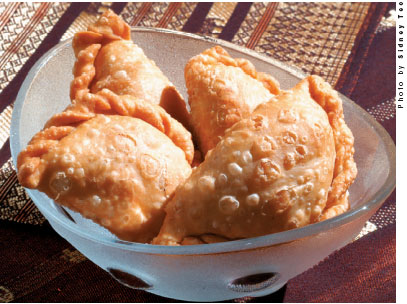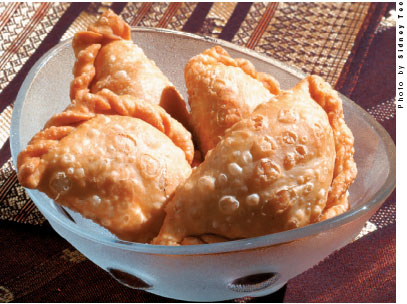 Filling
200g chicken, cut into small cubes
2 tbsp curry powder
2 tbsp oil
2 onions, diced
3 potatoes, peeled, cleaned,
and cut into small cubes
1 tsp salt
Pastry
300g plain flour
Pinch salt
100g margarine
1 egg yolk
1 tbsp oil
1/2 cup water
Oil, according to preference for
deep-frying
How to
1. Make the filling: Season chicken with curry powder and keep aside. Heat oil in a pan and lightly brown the onions. Add potatoes and fry till soft. Add chicken, salt and water if necessary to prevent drying.
2. Sift flour into mixing bowl, add salt and rub in margarine.
3. Make a well in the centre of the flour mixture and add egg yolk, oil and water. Mix into a soft dough. (Might be necessary to add in extra water.)
4. Pull out 'ping pong' ball size doughs from the pastry and roll out into 1/4cm thickness.
5. Put a dessert spoon worth of filling into the centre of each rolled out pastry, rub a little water on the edges and fold pastry into half, sealing by pinching andfluting the edges.
5. Heat oil and deep-fry curry puffs till
golden brown.
MAKES ABOUT: 15
TAKES ABOUT: 45 minutes
COSTS ABOUT: $4.50