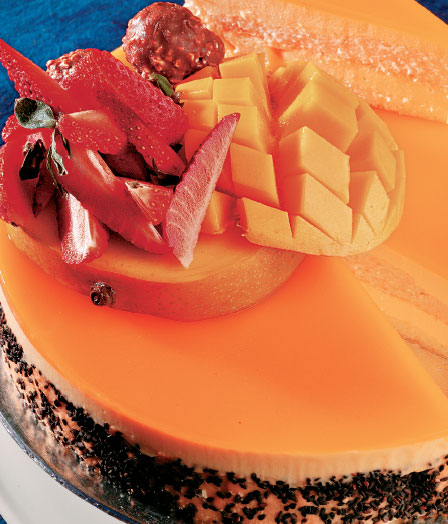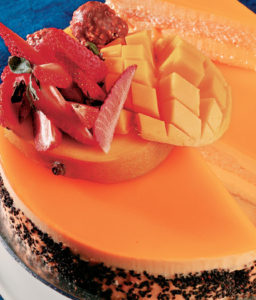 Ingredients
Sponge Cake
250g sponge cake mix
5 eggs
50g water
50g unsalted butter (melted)
50g chocolate shavings
Mango Cream Filling
300g whipped cream
2 tsp mango essence
1 drop egg yellow colouring
100g fresh mango, peeled and diced
100g mango glaze
How to
1. Make the sponge cake: mix all the ingredients well in a mixer except the butter and chocolate shavings.
Mix well and fast for 10 minutes, and then slow down for 5 minutes. Next, add  melted butter bit by bit. Preheat oven  to 160°C, spread sponge mix on tray with baking paper, then sprinkle chocolate shavings over. Bake for 15 minutes or do the toothpick test to check if baked. Once baked, set aside to cool down. Then cut sponge cake into 2 round circles (same size), and one long strip.
2. Combine all of the mango cream filling well.
3. Place one sponge cake circle as a base into a cake ring, and put the sponge strip around the inside of the cake ring.
4. Put half the mango cream mix onto the sponge cake, layer the other  sponge cake circle onto it.
5. Top the rest of the mango mix onto it
6. Finally, spread the mango glaze over the cake and set it in the fridge for 1 hour before garnishing with desired
fruit.
SERVES: 4
TAKES ABOUT: 45 minutes,
excluding refrigerating time