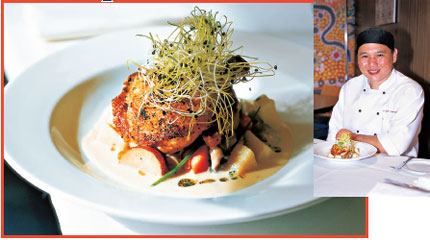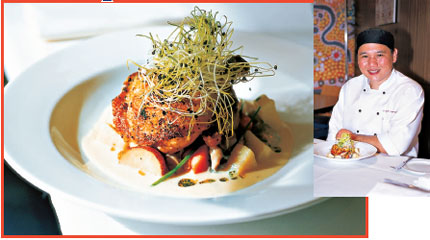 Ingredients
Marinade
100g whole-grain mustard
20g shallot, minced
20g garlic, minced
2 tsp olive oil
1/2 tsp ground
black peppercorns
2 spatchcocks, deboned
Oil, according to preference
300ml chicken stock
80g carrot, chopped
80g parsnip, chopped
80g celeriac, chopped
300g unsalted butter
Salt, to taste
Black pepper, to taste
8 oysters, shucked
Garnish
2 sprigs spring onions, sliced
Chef's Tip: Replace spatchcocks with two spring chickens.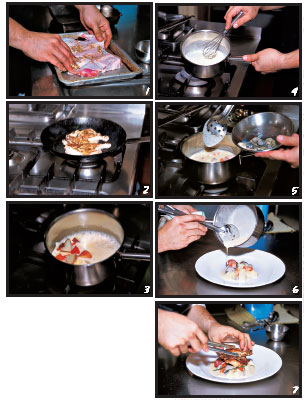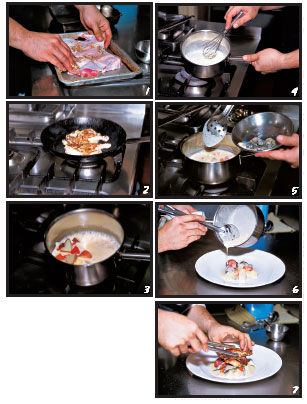 How to
1. Rub marinade thoroughly over the birds. Leave
overnight.
2. Heat a little oil in a pan until slightly smoking. Sear birds, skin side down, until crisp for about 3 minutes. Place birds in oven preheated to 250°C. Bake for 15 – 20 minutes or until juice from thigh of bird runs clear. Keep warm in oven at low temperature.
3. Bring chicken stock to boil. Add carrots, parsnip and celeriac. Cook until vegetables are soft. Strain vegetables and reserve stock.
4. Bring stock to a boil again. Add butter a little at a time and whisk until it is well incorporated with the chicken stock. Season to taste.
5. Add vegetables and oysters. Simmer for 3 minutes.
6. Place an equal portion of vegetables and oysters on two plates and drizzle stock over.
7. Place roasted spatchcocks on top.
8. Garnish with spring onions and serve.
SERVES: 2
TAKES ABOUT: 30 minutes to cook,
excluding overnight marinating